The WOLF-Garten seed and fertilizer products are all of high quality and offer you maximum quality. They even meet the uncompromising demands of professional gardeners. Take a look around!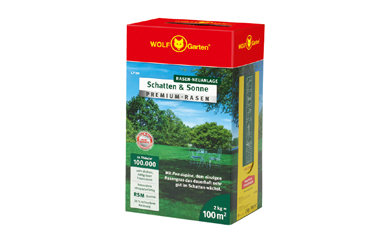 Starting is easy
How about a hard-wearing lawn where your children or your dog can play and where you can have garden parties? Or would you prefer a lush green lawn with dense growth that is simply stunning to look at? Or should your lawn be easy to create and care for? Whatever your favourite lawn, we have good news for you: WOLF-Garten has exactly the right lawn for all requirements. Complete with high-quality grasses and the WOLF-Garten GERMINATION GUARANTEE.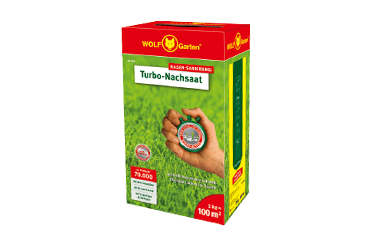 Lasting repairs at a stroke
After a hot summer, your lawn can be damaged and have dry spots. Following your kids' last football match or your garden party, there may be a bare patch or two. Maybe you've moved plants, or your dog has been digging for something. No problem! WOLF-Garten lawn repair products help you repair your lawn rapidly and reliably for a fresh, healthy look. And for those who don't want to wait, there are ultra-fast-germinating »turbo« products.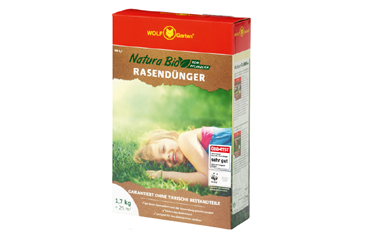 Ecological lawn and garden maintenance
Back to nature: Many home gardeners and even professionals want eco-friendly, gentle nutrients for their lawns and gardens. WOLF-Garten has the answer: with a special seed and fertilizer range characterized by the sustainability of the high-quality, natural ingredients: »Natura Bio«. It consists of purely natural ingredients, so it is 100% vegan - unique in the seeds and fertilizers market!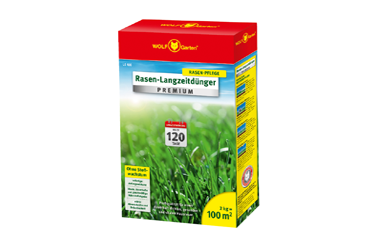 So that the lawn always looks fantastically beautiful
Most soils don't provide enough nutrients, so to fertilize is a must. With WOLF-Garten long-acting lawn fertilisers, you give your lawn everything it needs – ideally tailored to the seasonal requirements of your lawn plants. The result is a real dream lawn which is extremely durable and withstands moss and weeds. WOLF-Garten long-term lawn fertilizer provides your lawn plants with all the key nutrients they need.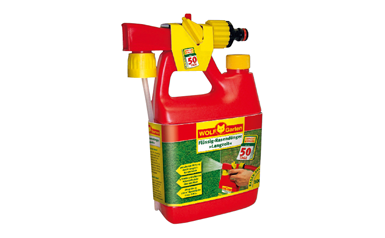 Ultra-fast fertilization
The lawn care revolution: Liquid fertilizer from WOLF-Garten! This fertilizer is fast and easy to use. Simply connect the spray bottle to the garden hose, switch on, and spray over your lawn. You can cover up to 100 m² of lawn in just three minutes. It's never been so easy to fertilize your lawn!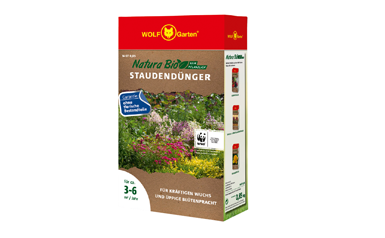 Plants and vegetables thrive
All »Natura Bio« special fertilizers feature a balanced nutrient content for your plants. The fertilizers are enriched with mycorrhiza. These microorganisms attach themselves to the plant roots and increase nutrient uptake. The natural root growth is strengthened and the plants' resistance to heat and dryness is improved by utilizing soil moisture. Resistance against pests and fungi has also been increased, making the plants significantly more vital.