For lawns of over 250 m² in size we recommend a powerful petrol lawnmower, such as the little powerhouses from WOLF-Garten. Thanks to powerful engines they can handle even taller grass with no trouble. The models with wheel drive run by themselves, so to speak. This makes mowing pure pleasure for you.
The innovative ACC and CCM system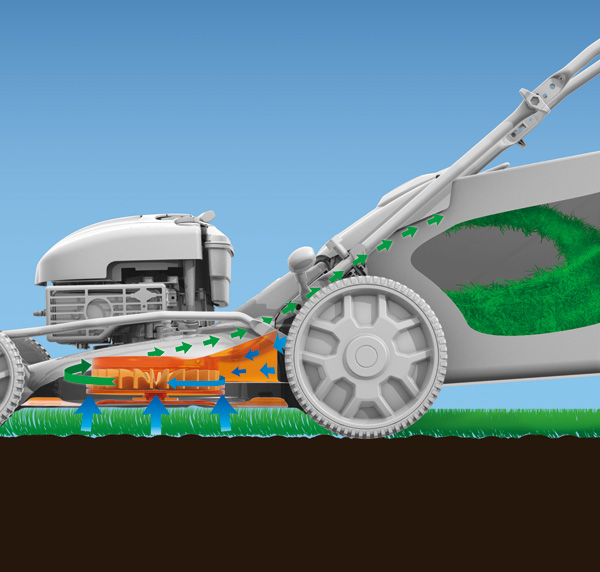 Perfect cutting and optimal grass collection with the ACC system
All A SERIES petrol lawnmowers have the Advanced Cut and Collect System. The suction effect of the stream of air aligns the grass stalks (blue arrows), even with tall and damp grass, producing wonderfully even cutting results.
At the same time it prevents any blockage of the discharge duct and ensures optimal filling of the catch basket. With this function, the catch basket does not need to emptied so often.
The new generation with the unique CCM system
CCM stands for "Cut", "Collect" and "Mulch". You can switch easily and quickly between the functions of mowing, collection of the grass cuttings in the grass collecting bag, and mulching. Just one mower that can be used in three different ways.