Mowing easily and in an environmentally-friendly way
The electric and cordless lawnmowers from WOLF-Garten are delightfully light and notably quieter than comparable petrol engines - and are thus very environmentally-friendly. This quiet running is good for your ears and allows you to work without fatigue. Moreover, they are ready for use at any time - there is no time-consuming maintenance work required. Just take a look at this video.
The innovative ACC and CCM system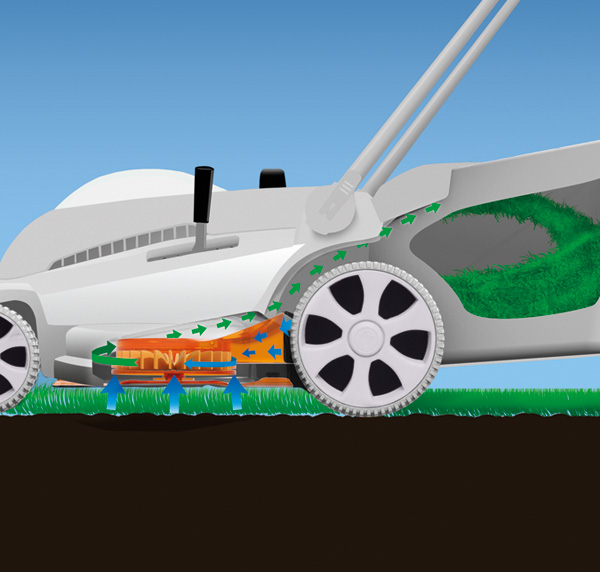 Perfect cutting and optimal grass collection with the ACC system
All new A SERIES electric lawnmowers have the new Advanced Cut and Collect System. The suction effect of the stream of air aligns the grass stalks (blue arrows), even with tall and damp grass, producing wonderfully even cutting results.
At the same time it prevents any blockage of the discharge duct and ensures optimal filling of the catch basket. With this function, the catch basket does not need to emptied so often.
The new generation with the unique CCM system
CCM stands for "Cut", "Collect" and "Mulch". You can switch easily and quickly between the functions of mowing, collection of the grass cuttings in the grass collecting bag, and mulching. Just one mower that can be used in three different ways.
Electric lawnmowers A-Series