MTD Products AG introduces its latest to the trade
29.05.2017 08:33 Age: 5 yrs

MTD merges with F. Robotics Acquisitions Ltd
Saarbrücken, Germany, 19 May 2017 – Family of brands expands at MTD Products AG. From July 2017, the Israeli company F. Robotics Acquisitions Ltd. will be operating from under the umbrella of the tradition-­‐rich US company MTD.
---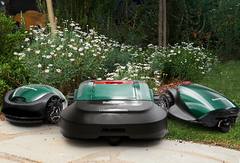 PRESS RELEASE
May 2017
MTD merges with F. Robotics Acquisitions Ltd
Saarbrücken, Germany, 19 May 2017 – Family of brands expands at MTD Products AG. From July 2017, the Israeli company F. Robotics Acquisitions Ltd. will be operating from under the umbrella of the tradition-­‐rich US company MTD. The F. Robotics brand Robomow® is a global market leader in robotic lawn mowers and will thus be adding specialist expertise to the company.
Founded in 1995 in Pardesiya, Israel, F. Robotics Acquisitions Ltd. stands for 22 years' experience in developing and manufacturing environmentally friendly and highly innovative robotic lawn mowers. With Europe as their main sales market, their mowers have received multiple awards in a range of product tests. Through this merge, MTD aims to leverage the specist's trailblazing, progressive technology for developing the entire MTD brand portfolio in Europe and the USA and to build on this expertise in robotic lawn mowers over the long term. As such, the Robomow brand will be continued by MTD and integrated into its existing international portfolio.
"Both MTD and Robomow see tremendous opportunities to grow our brands through this merger of our products and talents," said Rob Moll, CEO, MTD Products. "Initially, we will be looking to market Robomow technology under our Cub Cadet and WOLF-­‐Garten brands. At the same time, we expect the Robomow brand to profit from MTD's global reach and presence."
Posting annual increases of over 30 per cent, the European robotic technology for residential and small garden use segment is already an established growth market. The worldwide market volume for robotic technology currently totals 1.6 billion euros. Boosting demand in the North American market and gaining additional global market share are among the goals MTD will be pursuing going forward, Moll explains further.
Following the merge with MTD, headquarters of F. Robotics Acquisitions Ltd. will remain in Pardesiya, Israel. Business operations will continue to be overseen by the existing management team and will be supported by MTD divisions in Europe, North America and the Asia-­‐Pacific with regard to achieving growth and innovation goals.
"For the last 22 years we have been focused on developing innovative technologies and leading robotic mowing products. We are excited to see this investment reach its full potential in the market via MTD's leading brands and distribution," stated Udi Peless, CEO, F. Robotics. Both companies have industry-­‐wide reputations for innovation in the fast-­‐moving lawn mower and outdoor power equipment markets.
Since its founding in 1995, F. Robotics Acquisitions Ltd. has brought to market six generations of rechargeable robotic lawn mowers for residential use. The models vary in their cutting widths and in their reach, making them suited for use on differently sized lawn areas. All the Robomow robots are controlled electronically via an individually programmable schedule and automatically drive back to their charging station when needed. While mowing, the Robomow mowers work so quietly that even mowing overnight is possible. On top of the manual controls, a smartphone app is an additional, especially user-­‐friendly option. Via the app, all details of the robotic mower can be called up and mowing times easily specified.
Of the six product series, the Robomow RX series is particularly noteworthy: it is currently the smallest robotic lawn mower on the market and was designed specifically for small lawns starting at 150 square metres. This new product development will be presented at the IFA 2017 and is already available in stores from 499 euros.
With the acquisition of F. Robotics Acquisitions Ltd., MTD has completed its now fourth takeover since 2015, strengthening the company's technological edge and rounding out a highly innovative positioning going forward. The companies CORE Outdoor Power (CORE), Precise Path Robotics and ATT were acquired by MTD in 2015. The CORE battery-­‐powered engine technology, for instance, allows for significantly higher torque and greater efficiency than other electric motors to date. Precise Path Robotics and its robotic golf lawn mower RG3 add to MTD's expertise in the specialist area of sports and golf turf care, augmented by the large-­‐scale mowers of ATT for sports turf.
About MTD:
MTD, the "Modern Tool and Die Company", with its headquarters in Cleveland, Ohio is one of the world's largest manufacturer and retailer of motorised gardening tools. MTD Products Inc. was founded in 1932 by the German engineers Theo Moll, Emil Jochum and Erwin Gerhard and is family owned until today. MTD has manufacturing capacities in the USA, Mexico, Asia and Europe and occupies round about 10,000 people in 183 countries worldwide. MTD offers every gardener – whether professional or hobby gardener – a product range from four brands on the European market; Cub Cadet, WOLF-­‐Garten, ARNOLD and also MTD, which covers nearly every application in the garden. Every brand makes its mark through individuality and unmistakable optic. All of the brands compliment a wide spectrum of seeds, fertilizers, hand garden tools and motorised garden tools; from electric lawnmowers to motor hoes and snow blowers all the way up to ride-­‐on mowers and lawn tractors. For more information on MTD, visit www.mtdeurope.com
About Robomow:
F. Robotics Acquisitions Ltd designs, manufactures and distributes a complete line of Robomow brand robotic lawn mowers in markets around the globe. The company, started in 1995, is a leading manufacturer and marketer focusing exclusively on robotic lawn mowers. Robomow's state-­‐of-­‐the-­‐art and award-­‐winning mowers are built employing a wide portfolio of unique and proprietary technologies developed over the course of more than two decades. Robomow's products are all inspired by the desire to make life easier and more enjoyable.
Presscontact:

RessourcenReich GmbH
BrandAffairs
Oliver Schütte
Astraturm 7. OG · Zirkusweg 2 · 20359 Hamburg / Germany Tel.: +49 40 80 81 14 210 · Mobil: +49 173 54 999 28 E-­‐Mail: oliver.schuette@brand-­‐affairs.de · Internet: www.mtdeurope.com
---