More warranty without paying any more!
14.04.2016 12:34 Age: 6 yrs

New for old!
Would you like a new lawnmower? Now is the best time!
---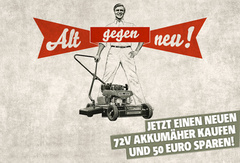 Buy a new 72 V cordless lawnmower now and save 50 Euro!

During the sales promotion period from 15th April to 15th May 2016, you pay 50 Euro less when buying a new WOLF 72 V LI-ION POWER 37 or 72 V LI-ION POWER 40 cordless lawnmower from participating dealers if you trade in your used lawnmower.
So, let's go to your WOLF-Garten dealers!
---