Enjoying gardening is a tradition for us
More than 85% of the population of Germany knows the WOLF-Garten brand today. WOLF-Garten is a synonym for the fascination and fun of gardening in many countries in Europe. This positive brand significance is the result of a commitment to implementing a clear corporate principle: making work in the garden easier through innovations, opening up new markets in the garden sector, and establishing a clear positioning of the brand. In all of this we are always concerned about the needs of our customers and place this goal at the forefront: Putting more fun into gardening!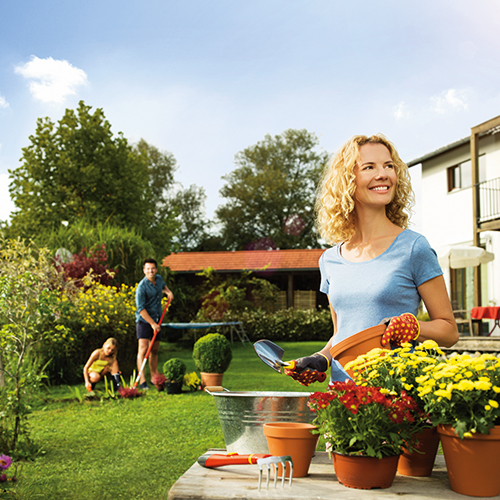 Being customer-oriented is a tradition of ours.
WOLF-Garten
offers products of top quality!
is not only cost-effective but also well worth its price!
With products from WOLF-Garten
you save time, money and effort!
you get the garden work done easily and successfully!
you can enjoy your garden!
Products from WOLF-Garten
have inspired confidence for decades now!
offer the very latest technology "Made in Germany"!
convince through their attractive, timeless design!
Producing quality is our tradition.
Head office Saarbrücken-Bübingen
WOLF-Garten is a quality brand of Stanley Black & Decker Outdoor GmbH that is produced at European locations and sold within and outside Europe. Sales, administration, purchasing, marketing, product and quality management and the product and spare parts logistics of all corporate sectors are concentrated at the corporate head office in Saarbrücken-Bübingen.
Sankt Wendel plant
Garden hand tools such as, for example, the multi-star® system tools, small tools and hand shears from WOLF-Garten are manufactured in Sankt Wendel in the Saarland – quality "Made in Germany".
Etzbach plant
Lawn seed and fertilisers for the European market are developed and produced at Etzbach on the Sieg.
Spare parts warehouse Hornbach
More than 35,000 spare parts that are available directly from stock are permanently kept in a storage area of 12,000 m² at the spare parts warehouse in Hornbach.
Nemesvámos plant (Hungary)
The plant that was set up in Hungary at the turn of the millennium produces around 500,000 lawnmowers and ride-on mowers, lawn and garden tractors and motorised tools for garden and yard maintenance annually.